for
Wedding Rings, Signet Rings, Family Crest Rings, Watches,
Fine Silver & Pewter Baby Cups and Trophies.
---
Argentium Sterling Cuff Bracelets - $749
The 3/4" cuff in deep relief Victorian ornament pictured below was a gift to a Facebook fan in November. Please email and another will be made up.
---
... Alternative metal, extra wide rings ....
Each ring is fabricated from surgical grade stainless steel and then hand engraved with traditional firearms style scroll or contemporary, ornamental style scroll. Engraving can be customized to match your favorite engraved firearm in your collection so that your collection goes wherever you go.
Specs: 22K selective gold inlay set in a 12mm wide, surgical grade, stainless steel band. Comfort fit, radius outter and lower profile for added comfort between fingers.
To see more photos of this ring and learn more about these rings as well as options and pricing,
click on the photo below.
WV Living Magazine's Best of Made in West Virginia runner-up for 2013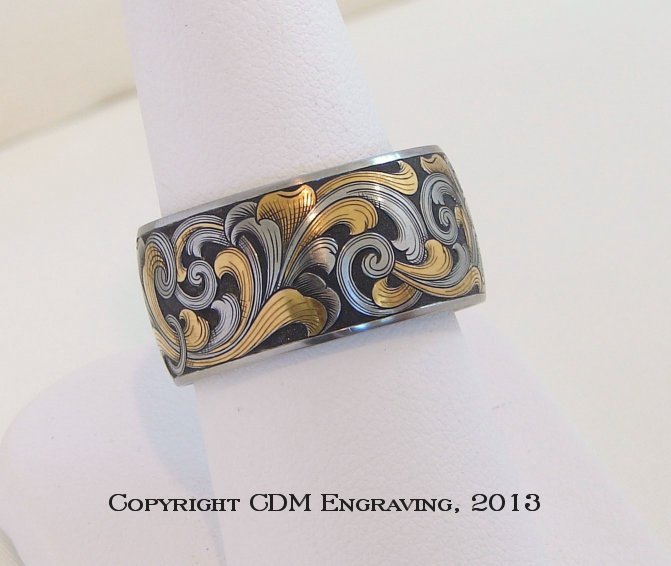 ---
Exhibition Engraving on Rings of Precious Metals. ..
14k White Gold
---
Black Diamonds and Flowers in Platinum
---
Men's 7mm flat band in 14k white gold ...
5mm Engagement and Wedding Band ...
A lot of exhibition quality detail is packed into these rings ... full coverage with wheat chaff engraving on all sides. Over 55 hours of combined engraving time.
---
14k White Gold Ladies Wedding Band .... 7mm
(with individual letter monograms evenly spaced around ring)
---
14k White Gold wedding band ...
3mm wide between the millgrain of "gun-lace" scroll engraving.
---
Solid 14K gold bangle - deep relief, sculpted scroll with diamonds.
---
"The GG" also known as The Golden Greek is an all mechanical e-cig personal vaporizor ...
These are extremely difficult to engrave due to the grade of stainless steel. When this one is complete I hope to have a better idea of pricing options for future engraving requests. Please check back!
Photos by Ed Connors Jr. of Ripley
---
Previously Completed Items ....
note: Viewing larger images requires the use of pop ups.